1.6 EHR: Electronic Health System
Definition
An Electronic Health Record (EHR) is an electronic version of a patients medical history, that is maintained by the provider over time, and may include all of the key administrative clinical data relevant to that persons care under a particular provider, including demographics, progress notes, problems, medications, vital signs, past medical history, immunizations, laboratory data and radiology reports The EHR automates access to information and has the potential to streamline the clinician's workflow. The EHR also has the ability to support other care-related activities directly or indirectly through various interfaces, including evidence-based decision support, quality management, and outcomes reporting.
What contains a EHR:
• Contact information
• Information about visits to healthcare professionals
• Allergies
• Insurance information
• Family history
• Immunization status
• Information about any conditions or diseases
• A list of medications
• Records of hospitalization
• Information about any surgeries or procedures performed
Why EHR is Important
EHR software collects, records and maintains patient data. This can include common patient demographics information, medical history, diagnoses, medications, prescription, allergy list, documents and lab results. The goal of an EHR is to organize patient data, creating it simpler for healthcare staff to evaluate a patient's record before or while their visit.
With the old method of physical file folders, you could simply have health records scattered across various doctor's offices. If you were to go to a new office, data would need to copied and sent or faxed to your new physician to give him full knowledge of your health. You can see how many possible difficulties could come up with this - a patient not remembering their past visit information, missing or incomplete records, and hard-to-read handwriting - the list continues.
EHR tries to digitize your health records so that they're comprehensible by all of your health care providers. Providers take notes in an EHR system so that any doctor in your future can find them, easily understand them, and can add to them.
EHR has also been in the limelight over recent times due to the Customer Management System (CMS) "Significant Use" laws, which have motivated hospitals and practices to implement digital systems.
What are the benefits of using EHR?
• Improved Collaboration
Information collected by primary physicians can be easily shared, examined by specialists and other team members which results in avoiding duplicate testing, lower care costs hence provide better outcomes.
• Flexibility
EHR provides you the flexibility to choose the platform as per your needs. You can choose SaaS model or on-premises model according to your needs and specifications. Provides physicians the flexibility to review tests, view reports, submit prescriptions from outside of his office allows great freedom for physicians and increased the speed of patient care. Instead of waiting for couriers or rushing back to the offices, doctors will have the flexibility to view the records on smartphones, tablets or desktop from anywhere at any time through internet access.
• Lesser Paperwork
EHRs streamline your workflow as the amount of paperwork decreased the need for storage space also decreased.
• Financial Benefits
Avoid loss of medical incentives and payment cuts by using a certified EHR; a certified EHR meets all the requirements including security and interoperability. By the Medicare EHR Incentive Program and the Medicaid EHR Incentive Program, qualified providers (EPs) can get incentives for the implementation and significant use of EHR technology.
• Improved Quality of Care
By promoting all phases of patient care, including security, efficiency, patient-centeredness, interaction, opportunity, power, and equality, EHRs give the capacity to change the full health information of a patient in real-time. Reliable, updated and precise information usually results in greater quality of care, from more reliable analyses to overcome errors. By giving automated reminders for preventive visits and screenings, EHRs can aid patients to better handle their conditions and engage more fully in their healthcare.
• Better Patient Outcomes
As defined above what's good for healthcare providers are frequently good for patients, too. Smooth access to a patient's entire records means no more filling out the identical paperwork at each doctor's or specialist's clinic. Each provider can see which tests a patient has had, along with which medications worked and which didn't. Patients are less susceptive to the same testing or imaging methods because the results and pictures are all in one place. Better coordination between providers leads to extra correct diagnoses, increased control of chronic diseases and greater overall patient care, which should always be the primary center of healthcare plan. By promoting healthier lifestyles in the whole society, including improved physical exercise, a healthier diet, and wider use of preventative care.
• Better Clinical Decision
EHR helps in making better clinical decisions, by combining patient data from various sources.
• Convenience
When it comes to obtaining patient data, users need to think of ease of remote access, versatility, and the movement that proposed EHR merchants can contribute. Utilizing a platform without portable access is a disadvantage for the health industry as it decreases convenient way to patient data during treatment, as well as entrance to the system if staff wants to register or renew data immediately. The value statement is that workers such as physicians and nurses interacting with the EHR can be more effective by having a way to have data at their fingertips.
• Improved Productivity
EHR can impact a physician's productivity by enabling them to provide quality and safer patient care.
• Portability and Sharing
As a doctor, you may be the patient's main care provider, but it's unlikely that you are the only doctor the patient is seeing. Patients may have numerous doctors covering from cardiologists to dermatologists. Every doctor a patient sees need to have the same knowledge. In inpatient care without EHRs, providers hold only a fragmented picture of the patient's medical history, current analyses, and medications which could lead to various difficulties. EHRs grant a medium for patients to participate in their treatment with all their doctors and ensure the data is up to date. EHRs make sure that each provider in the patient's series of care knows about the patient's medical history and current diagnoses, and also know what additional medications they are on.
• Patient Engagement
EHR help in patient engagement through a patient portal. With the patient portal, patients can access their health records, track information and make appointment requests through their portal. Patients receive important alerts about appointments and billing which helps to reduce staff's time. It helps in sending and receiving critical alerts about the patient's medical status. Communication between patients and physicians is improved.
• Emergency Situations
EHR can save time during clinic visits and can be life-saving in case of emergency. During a natural disaster, EHR can significantly benefit the patient who finds themselves in calamity situations. When a patient is not able to communicate in case of catastrophic events, the digital format can help here to access a patient's medical history that can make a difference between life and death.
• Benefits for Medical Staff
If you work as a medical attendant, health records technician, and in some cases in specific roles like EKG engineer, you'll need to know EHR and, in some roles, how to enter data into EHR systems. Laws allow authorized medical representatives to enter information into EHR systems. Medical staff taking on that responsibility can be useful to the doctors and nurses they work with and make the office-flow more smooth for both the healthcare team and patients. For example, the doctor can be communicating with the patient while a medical staff registers information into the record, reducing the need for a doctor or nurse to interrupt the discussion and type on a laptop in the medical room. Laws allow authorized medical representatives to enter information into EHR systems. Medical staff taking on that responsibility can be useful to the doctors and nurses they work with and make the office-flow more smooth for both the healthcare team and patients. For example, the doctor can be communicating with the patient while a medical staff registers information into the record, reducing the need for a doctor or nurse to interrupt the discussion and type on a laptop in the medical room.
Additional benefits of using EHR
EHRs and their ability to share electronic information can enable you to offer greater quality and care for patients while improving visible improvements for your organizations.
• Electronic health records include undoubtedly fewer errors than paper records, according to specialists.
• Internal communication among staff can be greatly improved by the help of EHR, offering everyone full access to the patient's medical history.
• Also, electronic health records make it easier for doctors to catch up with a patient's health status and monitor continuing care, both below their guidance and that of the patient's other doctors.
• Allows fast access to patient records for more coordinated, effective care.
• EHRs help to share electronic information with patients and other doctors.
• EHRs support providers to more efficiently diagnose cases, decrease medical errors and give safer care.
• EHRs promote patient and provider communication, as well as health care utility.
• It allows for more reliable and secure medication prescribing.
• Improving privacy and safety of patient data.
• Serving a provider's work-life equilibrium and enhanced productivity.
• Allowing physicians to increase efficiency and reach their business goals.
• Decreasing costs by limiting paperwork, advanced safety, lowered duplication of testing and refined health.
In 2016, HealthIT.gov research found that over 95% of qualified hospitals have shown significant use of certified health IT under the Affordable Care Act. But despite the popular use of EHRs, these products can be complicated and hold a wide range of abilities that vary from vendor to vendor. EHR can improve productivity/efficiency in primary care physician's workloads. Enabling physicians to improve efficiency and better work-life balance. With the help of technology and changes in health care, EHR can be a better option to improve your productivity. While the evolution of new EHR technology can be challenging, various actions can be used to enable a practice to rapidly enhance productivity and overall revenue. With advanced technology and the right choice, it comes up with the perfect opportunity for EHRs to make a more connected healthcare experience.
The role of such a system on an ambulance
• Prevention of disease or injury
• Better training for paramedics
• Exchange of patient data
• Review of clinical standards
• Improved database results
• Clinical decision support
• Better research options for pre-hospital care, but also for future adoption of appropriate care
• Discovering the patient's entire medical history including the operations he has undergone in the past but also possible allergies
How to build an EHR system?
While thinking about how to create an EHR, you should keep in mind that the process includes a number of complicated steps. First off, you have to think about HIPAA/GDPR compliance.
HIPPA/GDPR compliance
In case you're aiming for the US market, you should comply with HIPAA. EHR software processes and stores personal health information which is subject to regulations. HIPAA stands for Health Insurance Portability Accountability Act. It contains many rules and regulations that your solution should comply with. Technical issues of EHR software development.
HIPAA guidelines require an EHR system to provide the confidentiality and security of sensitive health information.
GDPR is another set of regulations elaborated for the EU that has recently come into effect. All businesses that process and store EU citizens' personal data have to comply with GDPR and provide individuals with a high-security level. As healthcare providers work with patients' personal data, they have to notify patients that their data processing approach meets all GDPR requirements
Make EHR softwer mobile friendly
Primarily, custom EHR software should have a web version since there are many features and particularities that are better used as a web application. However, the EHR system should have a mobile version since it improves patient-physician communication. Share f Besides that, mobile EHRS mean portability. Users and patients may solve many important issues on the go. Mobile EHRS engage patients in the treatment process. And to make sure that your custom EHR system covers as much audience as possible, take care of iOS and Android operating systems while building an EHR system.
EHR system certification
Certification is a must-have stage for the EHR software development process. Users should have no doubts that your software is legal and is safe to use.
• EHR system development for the US-based citizens will require ONC-ATCB Certification (Office of the National Coordinator - Authorized Testing and Certification Bodies). After certification, healthcare providers and patients may be confident in your product because the software meets all the standards.
In the EU, you'll need to go through EuroRec certification. It has the same purpose as ONC-ATCB but is made for European Union.
Without certification,it's illegal to destibute EHR software.
Standards and Protocols Compliance
There are a few standards that are used for healthcare information transferring. These standards are CCD, CCR, HL7, CCA. There's no precise antwer on what standards to use during EHR software development. Everything depends on your requirements for the EHR software and the country you create it for.
Transfer All the Necessary Data
It's required to migrate data from old-school records to the new EHR software. Clinic owners can hire employees that will assist them in this routine task. Also, it is also recommended to hire an admin that will manage EHR software and upload the medication histories of patients
Track the Performance of Your Custom EHR Software
To understand how popular and profitable your EHR software is, you should monitor some important metrics like:
•ROI calculations to assess profitability
••Throughput of records to understand the efficiency
• Quality of care that requires collecting feedback from patients
•Physicians' satisfaction
•Monitoring data error rates to assess and improve the software quality.
Synchronization With Apple Health Records
Also, we can't ignore the Health app made by Apple that makes it possible for iPhone users to visualize and store all their health records securely in one place. It's available for all US-based healthcare organizations at the moment.
One of the benefits of EHR systems is the synchronization with the Health app. All US clinics may self register on Apple's website and connect their compatible EHRs with the Apple Health Records system. It lets all patients and doctors aggregate health records from different clinics in one place, download all medication history on iPhone, and keep track of it.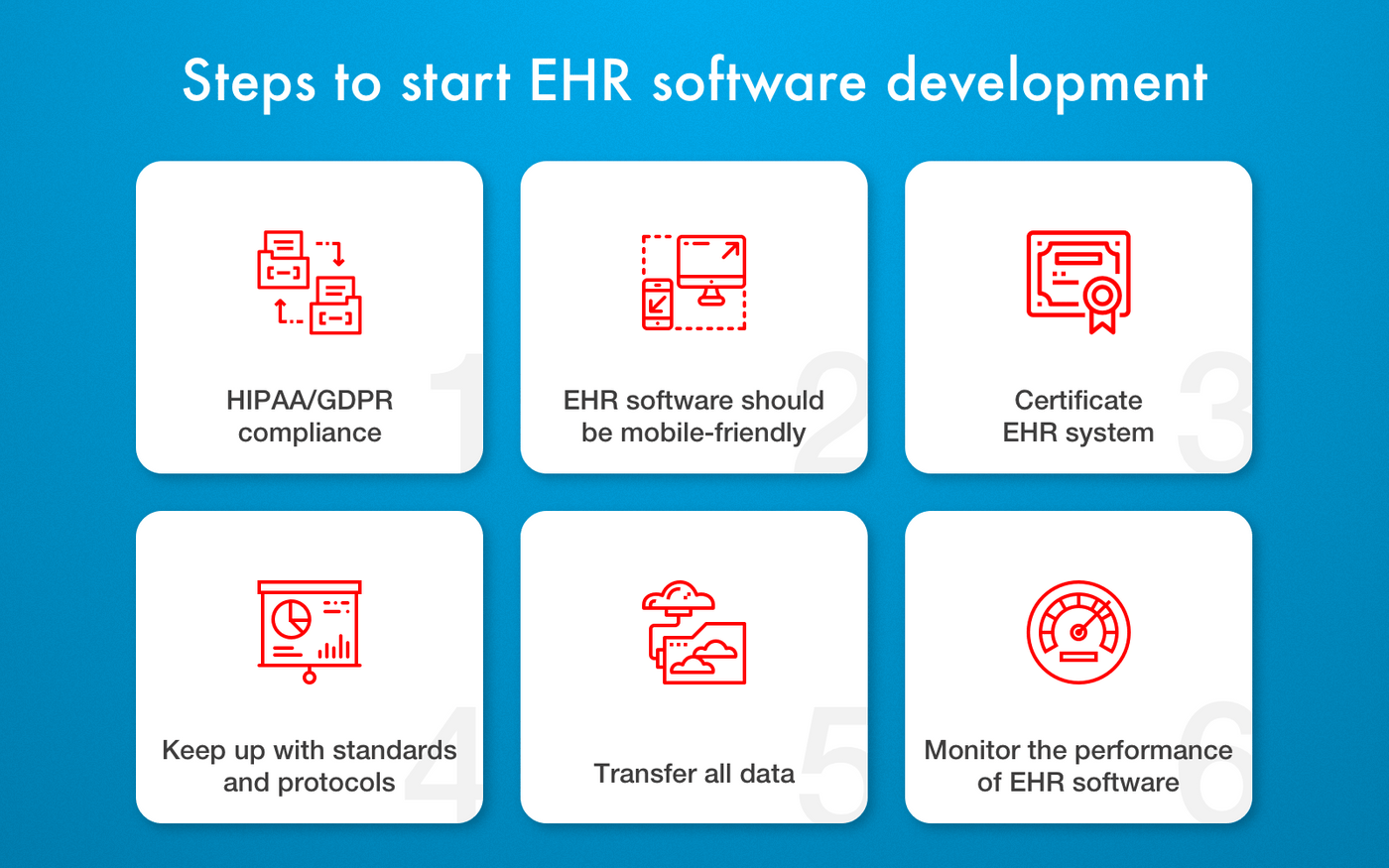 Essential features for EHR system development
EHR's first priority is the convenient management of healthcare documents. This includes lab results, patients' disease history, and other reports related to treatment and the patient's health condition. Make sure that physicians have a user-friendly and understandable interface to handle this task.
Task Management
Advanced task management lets doctors improve their productivity and optimize the workflow. With the right planning, physicians will spend less time on secondary tasks and focus on the treatment process.
Patient Profile
One of the mandatory EHR features. This page contains information with the patient's healthcare data like disease history, treatment history. Besides, it should also have general information like first name last name, age, gender, and so on. It's crucial to forbid access to the patient profile to third parties. Make sure that no one except physicians and trusted associates can view the medical history of your users.
Prescription menagement
This EHR feature lets physicians prescribe drugs remotely. Patients won't waste their time in lines just to get their medicines. In addition, they'll always be informed about the side effects and doses. The next step is to integrate the solution with local drug stores and send prescriptions right to the pharmacy
Distributed Access Control
Distributed access control requires all healthcare personnel to have their own access levels. For example, physicians and nurses should have different access levels. While doctors can see all information about patients, nurses should only access basic data like the name and the schedule of visits. This EHR feature reduces the number of users with access to sensitive information, thus mitigating the risks. According to HIPAA, access control should also be applied to physical data facilities. So, you have to minimize the number of employees that can access your server room and use additional security measures like key cards.
Integration With Labs
After the integration, associated labs will send test results to the app. It helps doctors and patients get all results immediately and start treatment faster
Charting
Customizable chart templates are the major advantage of electronic medical records.They let doctors and nurses save enormous amounts of time. Digital charts remove the paperwork from physicians' workflow and raise productivity. If you want to go beyond a common chart use-case, you can implement machine learning algorithms that'll analyze the data and suggest treatment methods automatically
Clinical Dashboard
The dashboard is the next stop on our EHR feature list. It lets doctors monitor the treatment results and the whole treatment process for each individual patient. Diagrams with results and pie charts help doctors to monitor general statistics
Reporting
How to create an EHR system with a comprehensive overview of the healthcare process. Just add reports. Modern EHR software provides doctors and patients with different types of reports. Patients Write here to search may track treatment effectiveness and drug interactions while doctors can monitor test results over time and check billings
Wire clinical knowledge into software
When designing a "medicine by design" electronic medical record, it is necessary to broaden the focus on the data by associating it with new dimensions.
Current clinical systems are focused on the introduction, memorization and representation of data. This is neutral or, at most, broken down into categories, such as diagnosis, vital signs, medications, and so on.
To realize new functions, in addition to the traditional one, it is necessary to take a further step forward and commit to three key aspects.
Interpretation of the data
To interpretation of the data it is necessary, first of all, to know its medical significance. Blood pressure, for example, is not just a pair of values, expressed in mmHg, but expresses the intensity of the force with which the blood pushes on the arterial walls, divided by the area of the wall. Pressure is determined by several factors, including the heart's strength of contraction, systolic output, heart rate, peripheral resistance, and more.
Each data, in medicine, has a precise meaning. Designing a system without knowing the meaning of the data is equivalent to creating a mere container of information, that is the digital transposition of the pre-printed forms that are still used in many hospitals.
Correlate and analyze data
The data must then be correlated with other data, not just the previous ones, as do all the systems available today. It is certainly useful to see the trend or trend of a data but it is not enough. The age and sex of the patient, his diagnoses, his values and therapy are elements with which the data must be correlated in order to proceed to the next step: analysis.
The interpretation of the data and their correlation determine, through an analysis process based on clinical knowledge, new information and allow the development of functions to assist the doctor in his work of diagnosing and treating the patient.
This approach allows you to develop functions for:
1. Representing information in multidimensional dashboards in which the correlations between the data are evident;
2. Select or suggest actions to be carried out, perhaps by restricting (filtering) the catalogs from which to make choices;
3. Highlight possible critical or risk conditions;
4. Check the correct data entry.
There are so many examples that can be done, including:
• Check if a drug is "suitable" or "compatible" with the patient, according to age, clinical condition, etc ..
• Report if the patient is for example at risk of a complication, for example deep vein thrombosis (DVT) and suggest the necessary actions to reduce the onset;
• Remember the prescription of some tests for monitoring drug therapy.
In other words, it is a question of developing "clinical logic" to "increase" the doctor's diagnostic and therapeutic capacity, obtaining three important results:
1. Increase the efficiency of doctors and nurses who have to spend less time using the information system which, by predicting what they have to do, is able to minimize interaction with the user interface;
2. Increase clinical efficacy and outcomes, thanks to greater awareness of possible choices and the effects they may have on the patient's prognosis;
3. Reduce clinical risk by avoiding preventable risks and medical errors.
It is an approach that completely overturns the principles and the way in which clinical software is developed and that forces everyone, users and technicians, to leave their "comfort zone" to create an innovative class of software.
The complex process can of course be tackled step by step, introducing some new functions, perhaps targeted for particular pathologies or care settings, so as to concretely prove the benefits that this approach can allow.
User Interfaces
An intuitive and efficient user interface is an important part of the system. Designers must understand the cognitive aspects of the human and computer interaction if they are to build interfaces that are easy-to-learn and easy-to-use. Improving human–computer interfaces will require changes not only in how the system behaves but also in how humans interact with the system. What information the provider needs and what tasks the provider performs should influence what and how information is presented. Development of human-interface technology that matches the data-processing power of computers with the cognitive capability of humans to formulate insightful questions and to interpret data is still a rate-limiting step (Tang and Patel, 1993). User interface requirements of clinicians entering patient data are different from the user interfaces developed for clerks entering patient charges. Among the most potent functions of EHRs is CPOE. To facilitate use by busy health care professionals, health care applications developers must focus on clinicians' unique information needs.
How Does an EHR Improve Patient Care?
Electronic health records (EHR) have proven to be an efficient method of taking patient files from paper to computer. Although they have done a great job of securely collecting and storing patient information, EHRs have continuously been improving over the years to encompass more than just records and files.
Information technology used in medical establishments across the United States have come to be an essential tool for healthcare professionals. Going beyond simply storing data, electronic health records have evolved into resources that help doctors and other providers communicate data to colleagues, patients and specialists. The insights that some software provide help with clinical decision-making by giving doctors the bigger picture when it comes to patient health backgrounds and treatment options.
The meaningful patient data within EHRs positively contributes to public health outcomes. According to a HealthIT.gov report, 75% of providers feel their electronic health record software enables them to deliver better patient care. Furthermore, 88% of respondents felt that their EHR also helped them achieve clinical benefits for the practice itself.
With technology that provides insights into a patient's medical history and multiple data files, doctors and clinics are better equipped to treat patients and meet their expectations. This readily available and valuable data streamlines time-intensive processes and contributes to easier clinical decision-making.
The more medical professionals have secure access to a patient's vital health information, the better chances they have of treating them properly and in a timely manner. Below you will find four ways that electronic health records not only help physicians with their work, but most importantly how they improve patient care.
4 Ways EHRs Enhance Patient Care
What was once seen as just a data inputting machine that took paper to computer to what is now called 'the cloud,' electronic health records are increasingly putting patients at the center of their own care. These technological platforms are now equipped with robust skills that can analyze patient file information, have abilities to communicate with other providers and specialists as well as secure sharing capabilities.
Today's EHRs feature important tools that help alleviate physician workflows and contribute to better patient outcomes. Below are some of the ways that EHRs have proven to enhance patient care through time.
Better Patient Engagement
Electronic Health Record software provide an essential means to bridging patient and provider communication. Their integrated tools not only help practices and staff in their everyday workflows, but they also positively contribute to better patient satisfaction.
Integrated patient portals, for example, allow patients to schedule their appointments online. This not only alleviates workload for staff and frees-up phone lines, but it provides patients an additional, quick way to book an appointment with their provider. This technological means of scheduling appointments often comes with automated confirmations and reminders, which also reduces some administrative burden for practice staff. Furthermore, integrated scheduling systems also reduce patient wait times in the office, providing a better experience overall, from the moment they book their appointment to the moment they walk in to see their doctor.
Another form of engagement that also plays an important role in patient satisfaction is the ease of information transfer. The issue with bombarding patients with an overload of information during the visit is the misconception that providers have of the patient's understanding. Having the ability to share this information through a portal, for example, ensures patients can read important documentation on their own time. The ability to send e-prescriptions also positively influences patient satisfaction as they can make their way to their preferred pharmacy when needed.
The more a patient understands their health journey and the better educated they are about it, the better their chances of complying with the recommendations made by their provider. Keeping patients informed throughout the process and making it as painless as possible, bureaucracy-wise, the more likely they are to be engaged and satisfied.
Focuses on Preventive Care
The evolution of the EHR has resulted in a powerful tool that helps providers better manage preventable diseases. With the ability to identify patients who have not yet gotten important screening examinations, doctors can stay on top of their patient's health.
Through their EHR, they can send automated templates inciting patients to book appointments for things such as mammograms, colonoscopies and other exams. These preventive measures can help detect early signs of devastating diseases such as breast cancer, colon cancer, kidney disease, glaucoma and more.
Electronic health record software equips providers with tools that identify patient risks and behaviors, positively contributing to preventive care. Receiving reminders for important screenings they might not have thought about on their own helps patients educate themselves and better manage potential health risks. Identifying a problem ahead of time can save a life and even prevent additional problems from arising.
As value-based care is allowing doctors to focus more on patients rather than numbers, this improves the quality of care provided and outcomes of treatment.
Consolidated Information
The ability to view everything about a patient in one place can help medical professionals save lives. A patient's medical history, whether complex or not, along with all other records can be consolidated, stored and viewed on a single platform. This helps providers make informed decisions that consider all aspects of a patient's health.
The comprehensive files clearly show a patient's treatment plan, from family history to financial conditions, giving providers the bigger picture. Other important aspects include mental health status, lifestyle and risk factors, as well as health conditions and past surgeries. These aid in good clinical decision making while simplifying workflows.
The centralized patient information also includes decision-making support tools. In instances where patients have drug allergies or negative interactions with medications or food, providers will be able to make quicker and more informed decisions when prescribing medications. Having access to this information and these tools helps prevent adverse events and improves patient outcomes.
Electronic health records also allow multiple providers to have access to the same important information. Patients often see more than one doctor, ranging from their primary care physician to specialists that could include dermatologists, cardiologists or others. The ability to securely share a patient's file with all their providers enables everyone to have a complete picture of the patient's medical history rather than a fragmented view. A patient's care circle should all have access to the same information in order to treat them properly.
On the clinical side, electronic health records contribute to higher efficiency ratings and are cost-effective. The care coordination that emerges from the use of such technology enables efficient and accurate patient visits, facilitates documentation, eliminates double entries and duplicate testing and even keeps track of billing and patient insurances.
Improved Patient Outcomes
Physicians are rarely the only point of contact for patients, whether that be in the emergency room, hospitals, clinics or other healthcare establishments. The various conversations they have with different staff can often result in repetitive information being given or omitting certain details when speaking from one medical professional to the other. This leads to fragmented data and misinterpretations when data isn't recorded and available to all staff.
Electronic health record software that is implemented within clinics, for example, allow administrative staff to collect, note, store and monitor a patient's health virtually from anywhere. Providers have a complete view of every encounter the patient had, including physicians, nurses, lab technicians and more. This provides better access to healthcare data, improves care coordination and as a result, improves patient outcomes.
With EHRs providing a central repository of patient data and tools that help analyze and support decision-making, patient healthcare trends can be identified. Providers are then better equipped to draft, evaluate and monitor treatment plans, helping improve overall clinical care and quality.
Efficient prescription management with EHR
First of all, EHR reduces the chance of loss or misplacement of the paper prescription. Directly prescribing with EHR enables the quick update to the pharmacy thereby reduces time to assort medicines for each and individual patient. Such e-prescriptions also help in reduction of the cost burden. At the same time, such electronic filing speeds up the procedure because of faster comprehension of the information.
Security and privacy
Justice Samuel Dennis Warren and Justice Louis Brandeis define privacy as the right "to be let alone." 16 EHR systems have concerns of breach as with any online digital format. There have been couple of cases reported in which medical information has been accessed by unauthorized personal, while this does not occur all too frequently, the occurrences are enough to plant some suspicion in the minds of physicians and patients. If confidential records end up in the hands of a person not authorized could lead to identity theft, which can destroy a person's finances, credit and reputation. This is why reputable records management companies have worked hard to provide top-quality security within their software in order to try to eliminate the risk of breach. There is a potential for misplacement of data throughout this process of conversion from a paper to electronic health records. However, professional electronic health record vendors formulate transition strategies in order to essentially eliminate data misplacement.
How to ensure security and privacy
1) Enhance administrative controls
• Update policies and procedures
• Guide employees through the stringent privacy and security training process
• Run background checks on all employees
2) Monitor physical and system access
• Create physically inaccessible systems to unauthorized individuals
• Have exigencies in place for data recovery or restoration .
• Provide identification and verification requirements to all system users
• Access the list of authorized users
• Supply passwords and personal identification numbers (PINS)
• Provide automatic software shutdown routines
Better practice management with EHR
In terms of appointment management, EHR performs the excellent task. EHR improved medical practice management through integrated scheduling systems that link appointments directly to progress notes, automate coding, and manage claims. This platform smoothly handles queries about the patient condition and manages graphs, specific to each and every patient. A Report published by Jamoom E. et al., National conference on health statistics "claimed:
• 79% of EHR users practice functions more efficiently.
• 82% of EHR users save time while sending prescriptions electronically (e-prescribing).
• 75% of EHR users receive lab results faster than usual.
EHR enhanced communication with other multi-disciplinary physicians, laboratories, and between different hospitals which enables faster patient service. Since it's a digital platform with online connectivity doctors can access the patient information anytime anywhere and assigned task to support providers which includes labs, and other physicians. Follow checkups are often an integral part of better patient care; with EHR, automated checkups are easily scheduled by the electronic program. Since the program is integrated with test reports and images, timely access is readily enabled. Moreover, such test can be ordered through this multipurpose EHR system. Moreover, such system prevents unnecessary duplication of medical testing. The best part of such electronic records is that they are integrated with national and international disease database and registries. Thus, it helps the physicians track the epidemiological status of the current disease under treatment and be prepared for emergencies.
One letter makes a huge difference
Both an EMR and EHR are digital records of patient health information. An EMR is best understood as a digital version of a patient's chart. It contains the patient's medical and treatment history from one practice. Usually, this digital record stays in the doctor's office and does not get shared. If a patient switches doctors, his or her EMR is unlikely to follow.
By contrast, an EHR contains the patient's records from multiple doctors and provides a more holistic, long-term view of a patient's health. It includes their demographics, test results, medical history, history of present illness (HPI), and medications.
What is an EMR ?
Electronic medical records (EMRs) are a digital version of the paper charts in the clinician's office. An EMR contains the medical and treatment history of the patients in one practice. EMRs have advantages over paper records. For example, EMRs allow clinicians to:
• Track data over time
• Easily identify which patients are due for preventive screenings or checkups
• Check how their patients are doing on certain parameters—such as blood pressure readings or vaccinations
• Monitor and improve overall quality of care within the practice
But the information in EMRs doesn't travel easily out of the practice. In fact, the patient's record might even have to be printed out and delivered by mail to specialists and other members of the care team. In that regard, EMRs are not much better than a paper record.
What is the difference between EMR and EHR?
It's easy to remember the distinction between EMRs and EHRs, if you think about the term "medical" versus the term "health." An EMR is a narrower view of a patient's medical history, while an EHR is a more comprehensive report of the patient's overall health.
Here are a few more ways EMRs and EHRs differ:
• An EMR is mainly used by providers for diagnosis and treatment.
• EMRs are not designed to be shared outside the individual practice.
• EHRs are designed to share a patient's information with authorized providers and staff from more than one organization.
• EHRs allow a patient's medical information to move with them to specialists, labs, imaging facilities, emergency rooms and pharmacies, as well as across state lines.
What is Inpatient EHR?
From an IT perspective, a hospital isn't a single entity, but a group of various departments and systems. Since inpatient EHR systems help manage inpatient data, most hospitals commonly use them to streamline day-to-day workflows.
In the not-too-distant past, hospitals purchased and installed software designed for each specific department, e.g., the in-house lab department, the radiology department, billing systems and several others that perform various functions for the hospital. Each department had to separately print out the results for all the different patients they collected. In addition, each department manually entered data, increasing the likelihood of duplicate or inaccurate data.
What is Ambulatory EHR?
Ambulatory electronic health records, on the other hand, offer help to outpatient care facilities and smaller practices. Medical professionals can access patients' complete medical histories stored in electronic databases. These documents essentially include all records of surgeries or treatment procedures that don't involve hospital admissions.
In general, ambulatory EMR/EHR solutions are simpler than inpatient EHRs, because they deal with a single practice and its patients rather than the complex web of hospital departments that any one patient may interact with.
Ambulatory EHR systems have the advantage of making it easier for physicians to track a patient's medical records and long-term care. Physicians use these systems to collect detailed, specific information about each patient, providing complete documentation of their personal health records. Documented histories include injuries, diagnoses, treatments, prescriptions, visits and much more. Comprehensive databases help physicians see bigger pictures, which in turn streamline future diagnoses.
For example, this capability makes patterns easier to recognize, which could help reveal anything from a seasonal allergy to a serious problem that has increased in frequency as time went on. Health care businesses have capitalized on this information by providing practices with patient portals. Integrating an ambulatory EHR solution with a patient portal gives patients access to their up-to-date medical records. This has become more of a necessary EHR feature in recent years than a "nice-to-have" feature.
References
https://www.cms.gov/Medicare/E-Health/EHealthRecords
https://www.techtarget.com/searchhealthit/definition/electronic-health-record-EHR
https://www.agendadigitale.eu/sanita/cartella-clinica-elettronica-serve-una-riprogettazione/
McDonald C.J. (Ed.) (1988). Computer-stored medical record systems. MD Computing, 5(5):1–62.
McDonald C.J., Tierney W.M. (1986). The medical gopher: A microcomputer system to help find, organize and decide about patient data. Western Journal of Medicine, 145(6):823–829.
Barnett G.O. (1984). The application of computer-based medical-record systems in ambulatory practice. New England Journal of Medicine, 310(25):1643–1650.
https://www.academia.edu/37262485/Electronic_health_records_A_general_overview
https://webmedy.com/blog/why-ehr-is-important/
https://www.usfhealthonline.com/resources/health-informatics/ehr-vs-emr/#:~:text=It's%20easy%20to%20remember%20the,of%20the%20patient's%20overall%20health
https://hellohealth.com/blog/how-does-an-ehr-improve-patient-care/
https://www.techtarget.com/searchhealthit/definition/electronic-health-record-EHR
https://www.healthit.gov/faq/what-electronic-health-record-ehr
https://www.cleveroad.com/blog/how-to-create-emr-ehr-system